VLCC is a well-known brand in the Indian makeup and beauty industry today. They have a wide range of beauty products to choose from, such as kajal, face creams, cleansers, moisturizers, toners, scrubs, shampoos, etc. that are all natural and effective. Here are my top 19 products from their range.
1. VLCC Gold Scrub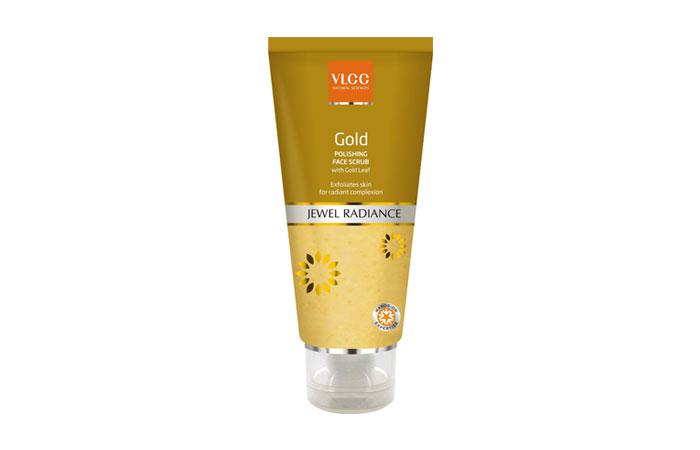 This earth brown tube is semi-transparent so, you easily know when to buy yourself another one. It comes with a dull golden flip top, and one has to squeeze the tube in order to extract the scrub. This VLCC product claims to contain 24 carat pure gold, turmeric, and sandalwood. It has micro granules that gently exfoliate your skin. The scrub has a golden look to it.
It easily removes dead skin and stubborn blackheads. It is safe to use for those who have oily skin or acne. Using this scrub twice a week is enough to clear your facial skin of dead cells, whiteheads, and black heads. VLCC Gold Scrub rinses off easily, and its fragrance is mild. It makes the skin feel fresh and instantly gives a glowing look to the skin. Value for money folks!
2. VLCC Kajal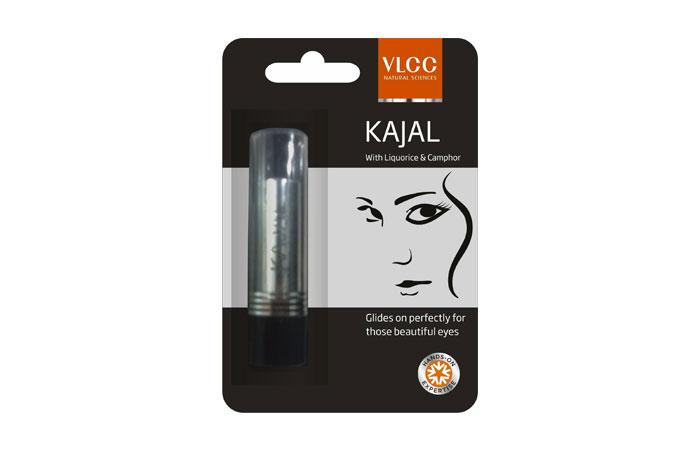 It claims to contain a formulation that prevents it from smudging or fading. Also, it contains natural oils that nourish the eyes. Triphala is also one of the ingredients that this product claims at containing.
This kajal is gentle for those with sensitive eyes and certainly does not smudge. It does not irritate the eyes. VLCC Kajal glides smoothly on application and is dark black. The packaging is stylish and classy. It looks much like a lipstick tube; the body being silver with a black base that needs to be rotated to raise the kajal stick within the body. Its lid is a transparent cylindrical tube (with four silver bands at the base) that closes tight and therefore, makes this product travel-friendly.
3. VLCC Skin Tightening Wheat Night Cream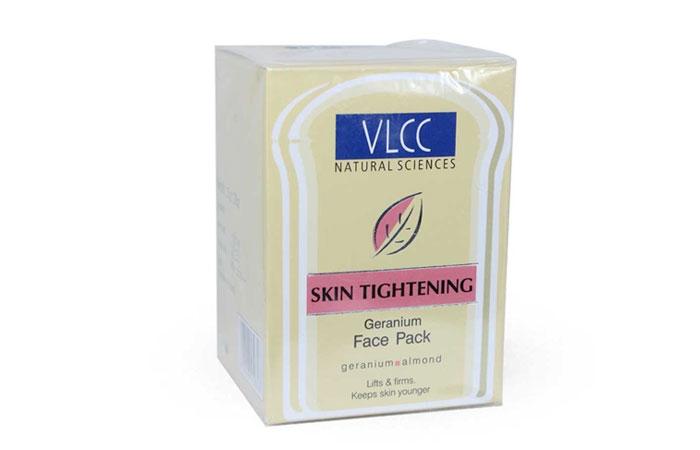 This cream needs to be used after cleansing and toning. One of the most prominent features of this cream is its bright turmeric yellow color which may raise a few eyebrows! However, with most herbal products one expects a slight 'out-of-the-box' feature.
It has a strong smell though which may or may not be bothersome. Its consistency seems thick and coupled with its bright yellow color, one needs to massage it well into the skin in order that it blends although, and it may leave a yellowish tinge on the skin. You may end up sweating, and there are chances of breakouts.
4. VLCC Saffron Massage Gel
This product comes in a wheat colored tub. You need to dip your fingers into the tub in order to extract the gel (not a very hygienic method, though). It claims at containing extracts of mulberry and saffron. This gel is light on the skin and has an orange tinge to it.
One needs to use it after cleansing the skin and gently massage it into the skin for approximately 8-10 minutes. It is recommended to take your time while massaging and not to attempt at speeding up the process since the product needs to be massaged well into the skin. This gel certainly brightens the complexion and makes the skin glow. However, the fragrance may seem strong to some.
5. VLCC Skin Defense Almond Under Eye Cream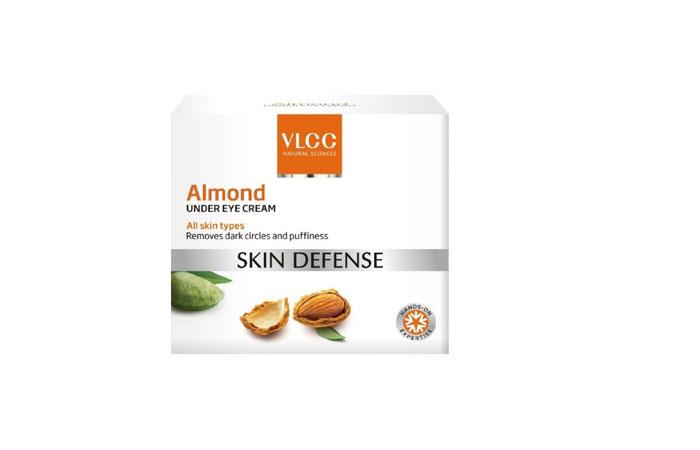 VLCC Skin Defense Almond Under Eye Cream protects the skin from the harmful UV effects of the sun. It comes in a cute glass jar with the cream appearing quite heavy. But on application, this turns into liquid gel and spreads easily resulting in a brighter, under eye area. It has a pleasant smell and lightens dark circles.
6. VLCC Acne Control Clove Massage Gel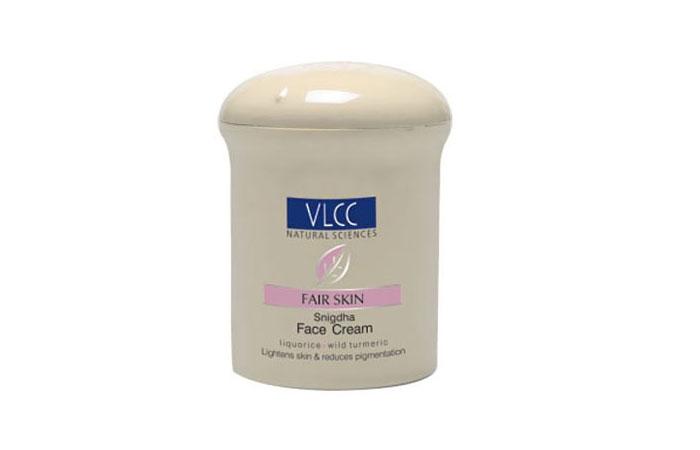 This olive green gel looks much like your standard aloe vera gel. It has a strong peppermint and clove fragrance. This product is available in a tub which although is travel-friendly, is not hygienic since you would have to dip your fingers into the tub every time you need to use this product. This gel has to be massaged into the skin for approximately 10 minutes post cleansing. However, for maximum benefit, one needs to use the peppermint face pack after using the gel. Due to the clove and peppermint extracts, there is a tingling sensation while using the gel. However, on regular use, this sensation fades.
This product is absorbed readily into the skin. It helps smoothen out the skin a bit and blemishes seem to reduce. VLCC Acne Control Clove Massage Gel certainly helps pimples heal faster and gives your skin a glow. However, it is recommended that those with sensitive skin do a patch test first. One needs to remember that there may be several reasons that trigger a bout of acne. Therefore, one needs to be careful and if conditions persist it would be advisable to consult a dermatologist.
7. VLCC Skin Defence Honey Moisturiser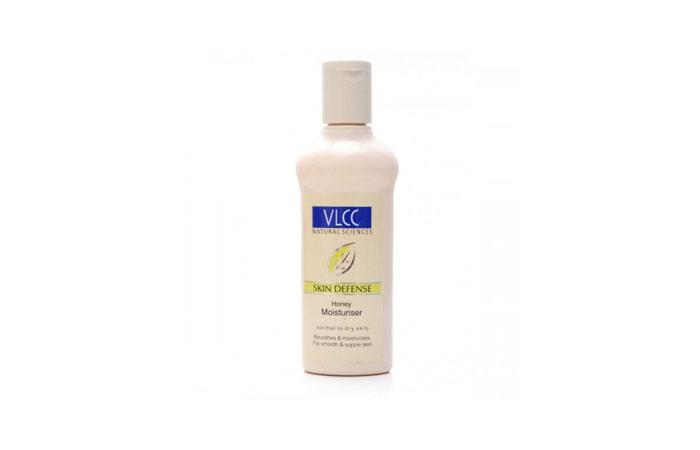 This moisturizer has honey and jojoba oil extracts, and for best results should be used daily after the cleansing and toning regime. It is best suited for dry to combination skin. This moisturizer blends well into the skin and does not sit heavy. Its mild fragrance is quite tolerable. It does make the skin smoother and clearer. The moisturizing effect lasts for hours. One need not reapply time and again, and your skin feels noticeably soft. Overall, value for money!
8. VLCC Matte Look Sunscreen Lotion With SPF 30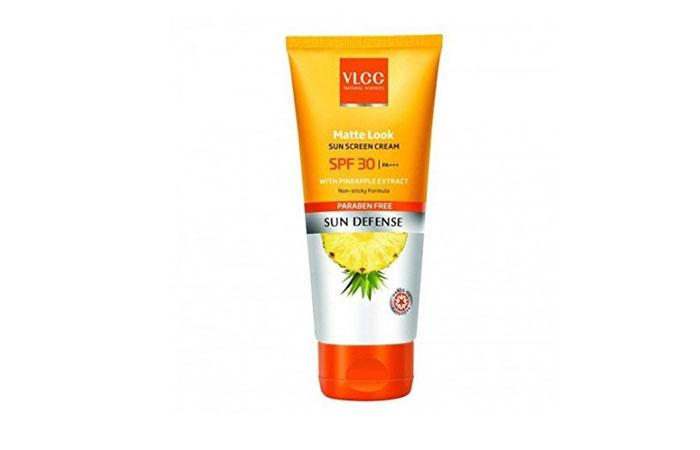 This product is very creamy, and one needs to massage it into the skin for at least an entire minute. The cream is light yellow in color, much like the color of a sandalwood based product. It is mildly fragranced. While this cream does not leave a whitish cast like other sunscreens, it does make you sweat a bit. So, those prone to excess sweating need to think twice before using this product. It gives a matte finish to the skin, and your skin does feel smooth and soft. It does not cause breakouts and certainly helps prevent tanning. The only drawback of this product is that it does not get absorbed into the skin easily and requires a good massage. However, it does provide good sun protection. Worth a try!
9. VLCC Spring: Daily Shine Control Clarifying Cleanser
This cleanser is best suited for normal to oily skin. Daily Shine Control Clarifying Cleanser is very gentle. It helps to deep cleanse the skin, making it bright, and refreshed. This contains milli balls encapsulated with vitamin C to fight against acne and even out the skin tone.
10. VLCC Pomegranate And Aloe Vera Gentle Exfoliating Scrub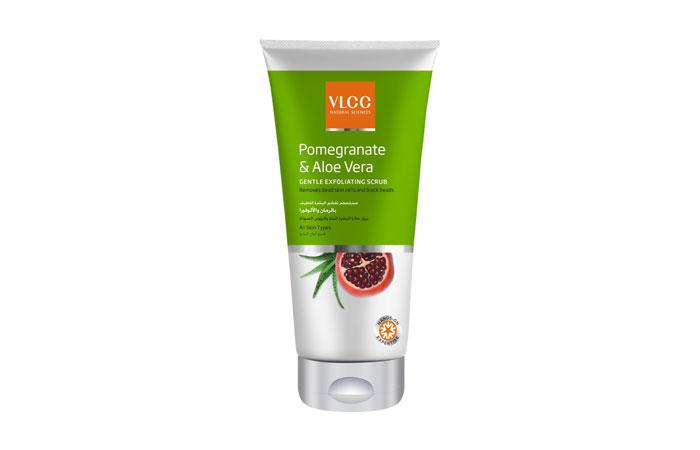 This scrub can be used for routine cleansing to remove the dead skin cells and impurities, for deep cleansing, and purification. It contains pomegranate extracts to exfoliate dead skin cells, remove black/white heads, and improve the cell renewal process. Aloe vera in it is useful to hydrate and nourish the skin while yogurt softens the skin, makes it firm, and reduces pores. This has a fruity and soothing scent with dark pink granules for very mild, creamy exfoliation.